Derrick Lewis Went From Retirement To A Fan-Favorite With A Title Shot | UFC &reg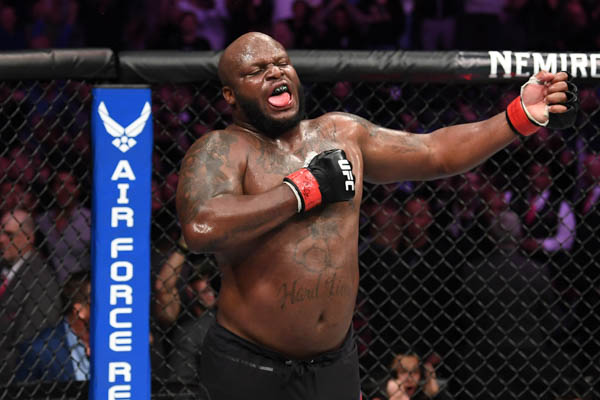 In June 2017, Derrick Lewis announced that he was retiring from mixed martial arts following
a fourth-round TKO loss to Mark Hunt.
Within a couple weeks, he was back. On November 3, he fights Daniel Cormier for the UFC heavyweight title in the main event of UFC 230 at Madison Square Garden in New York City.
So what happened to that retirement?
"They just kept pulling me back in, pulling me back in," laughed Lewis. 
So it's like The Godfather III?
"I can't leave; the only way is death."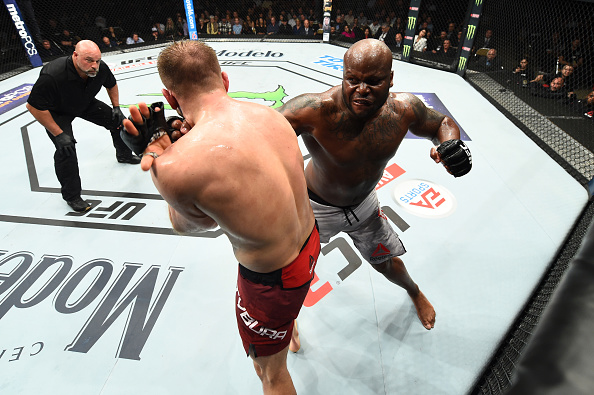 Lewis laughs again, clearly enjoying the spot he's in at the moment. At the time of the loss to Hunt, the Texan was having issues with his back that immobilized him and had him in excruciating pain. Even when he announced that his retirement was over, his back injury forced him out of an October 2017 bout with Fabricio Werdum on the day of the fight.
And while it still flares up from time to time, he's got it manageable enough to where he can make it to the Octagon and deliver on fight night. For proof, in the three bouts since the Hunt fight, Lewis has knocked out Marcin Tybura and Alexander Volkov, and decisioned Francis Ngannou. Now he's got a title fight, and that 180 from retirement to main event isn't lost on him.
"I think about that all the time," he said. "Now I'm making more money than what I was before I was gonna retire, so I'm happy."
That's a good thing for the Houston family man, who makes no bones about his reason for putting on four-ounce gloves and fighting. It's not for fame or glory.  
"I'm not in this sport to be famous or for people to like me and stuff like that," Lewis said. "I'm in this sport for the money and that's the way I am, day in and day out. Even if I wasn't fighting, I would be the same person. I really don't care if people ever remember me. Hopefully they don't remember me – I prefer it to be like that so they'll leave me alone whenever I'm out in public with my family."


Lewis says that, but in the course of being the genuine article, he has amassed a fan base that only grew last Saturday night when he knocked out Volkov. For the diehard fight aficionados, his comeback victory, which took place with 11 ticks of the clock left in the final round, showed off his power and heart in equal measure. 
As for his post-fight interview in the Octagon with Joe Rogan, that brought in fans beyond the fight world, and if you didn't know the joy of hearing Lewis' deadpan, no nonsense humor, you know now. Not surprisingly, the humble 33-year-old can't put a finger on why he's so popular with the fans, the media, and his peers.
"I don't know, I'm just being myself," he said. "I'm not rude or mean to anyone. I'm always respectful when it's time for me to be respectful towards someone. So I guess it may be because I'm genuine, I'm honest, and I don't beat around the bush. But I don't know why people like me."
Maybe because in a PC world, Lewis has no filter. He doesn't deliver a soliloquy in clichés; he tells it like it is, or at least the way he sees it. So it was no surprise that when asked on Saturday about a title shot, he honestly admitted that he wasn't ready.
The gift that keeps on giving

There's nothing quite like a @TheBeast_UFC full post-fight interview. Relive his best one yet after #UFC229. Enjoy. pic.twitter.com/KFNgfkGwvN


— UFC (@ufc) October 8, 2018
So what happened between Saturday and Tuesday?
"Money talks," Lewis laughed. "They threw money at me like I was a stripper, and I was fine with it."
Yet all jokes aside, "The Black Beast" isn't showing up to MSG for a paycheck. He is well aware that opportunities like this don't show up too often, and after snatching victory from the jaws of defeat against Volkov, he's got the confidence that whatever happens against Cormier, as long as there's time on the clock, he's got time to win.
"Oh yeah, of course," he said. "Without a doubt I believe I can beat this guy. Even if it's the last 30 seconds of the fifth round, I believe that I can still knock him out."


That's got to be a scary prospect for the champion and a comforting one for the challenger. Sure, Lewis knows he's not going to dazzle anyone with technique or flash, but for pure stopping power and the grit to swing those hammers from start to finish, few do it better than he does.
"I know a lot of guys don't believe in me, but I believe in myself," Lewis said. "I know I'm not the most technical, and I don't look at myself as a martial artist. I'm a brawler, so I don't have the most experience like everyone else that I fight, but the one thing I do have is the most heart of anyone that I ever faced and that I will face."
And sometimes, heart and power can work wonders. If it does on November 3, Derrick Lewis may go home to his new house with a championship belt. For a guy who has never chased after a title, what would that mean for him?


"It would mean another belt to hang up in the closet and tie around my waist to keep my pants from falling," he said. "That would be about it."
Not even a spot in front of the television? Lewis laughs. 
"I would keep it in the center of my closet, where I keep the watches and stuff like that."


Source: Source link